Mda, nu am intarziat mult... Absolut... Imi cer mii de scuze! Let's get started :D
Ca sa o iau cu ce e mai "greu" in fata, am sa incep cu Liebster-ul pe care l-am primit de la
Bia
si
Eny
(si carora le multumesc enorm ca s-au gandit la mine). Chiar imi place sa fac chestiile astea, sunt atat de amuzante si mereu ma trezesc ca raspund tot mai anapoda la ele :))
Rules *muzica tragica in spate*
1. Include the link of my post to your post.
2. Answer the ten questions.
3. Post ten of your questions for your nominated blogs to answer.
4. Nominate ten blogs having less than 500 followers.
5. Post the link of your nomination post on their blog.
Intrebari:
De la Bia:
1. What is the first book you remember reading?
2. What is your favorite place to read and why?
3. What book do you wish you had written?
4. What are the books you couldn't finish reading and why?
5. What is your funniest memory related to books?
6. Is there any book your friends are in love with and you don't like it? If yes, which one and why?
7. What is your favorite villain character?
8. What is the saddest book you've ever read?
9. What genre of books you don't like reading and why?
10. What is the author you strongly recommend?
Raspunsuri:
1. Well, my first book was probably "Black Beauty" by Anna Sewell, if I don't count the stories about fairies and unicorns... and, you know, things that sparkle. I still have that book and every time I feel sad or melancholic, I flip through the pages and I am a child again :)
2. Ah, this is a hard question for me, because I can read anywhere. Even if I'm on the bus, or in a crowded place, I manage to drown into the words and detach. But I think my favorite place is in my room, on my bed, curled up under a blanket, with a cup of hot tea or coffee near. This is for winter. In the summertime, I really enjoy reading outside, on an empty beach. Me, the seagulls and my book. Heaven.
3. Obviously, Harry Potter. Not for the fame or money, but for that wonderful idea and the amazing world. Besides that... probably "Gone with the wind". It's my favorite classic.
4. I usually finish a book, no matter how annoyed I am or how boring it is. I have this feeling that the book is going to be sad and lonely if I leave her. I know, I know, it's not normal (and I'm totally crazy) but that helps me and I never leave something unfinished. My conscience is always ready to throw knifes at me...
However, I can't help it and I haven't read "Looking for Alaska" yet, even if I started this spring, after I finished TFIOS. But I will. I promise.
5. Funny memory... Ah, I don't really know. Maybe when I started quoting from "The Clockwork Prince" in front of the class, while I was presenting a project, and everyone looked at me like I was crazy. I don't know. If I remember something, I will tell you.
6.Well, I know a lot of people who are in love with " Looking for Alaska" but, as I said, I don't find it interesting. Maybe because the high expectations after TFIOS. However, if they like it, I don't mind or something. Totally hate when I say something about a book I really love and my friends are like "meah, it wasn't so good...". Dude, don't mess with my book :( You're being rude!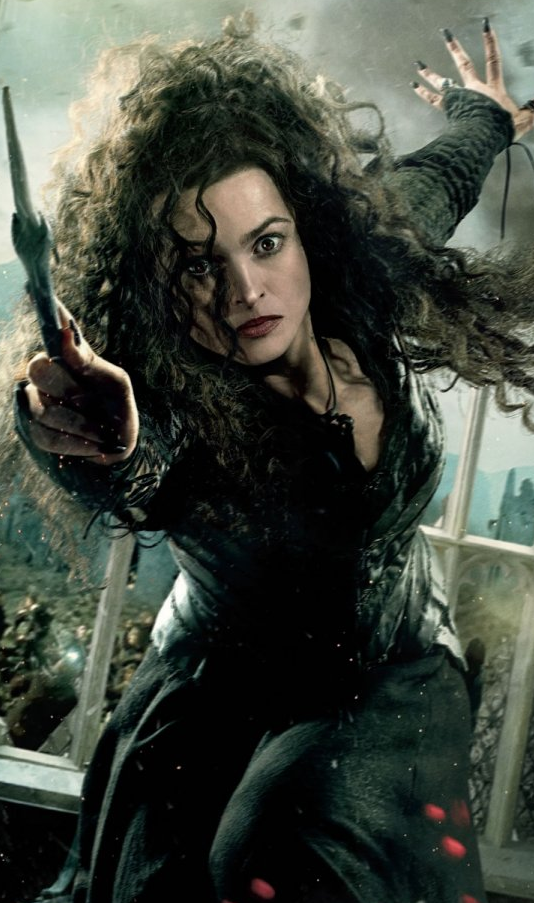 7. Ah, probably Bellatrix Lestrange. You know, from Harry Potter. I simply love her madness... and maybe this has something to do with Helena Bonham Carter playing her. And the hair, God! Just a word: fabulous. Actually, for one of my friend's birthday this year, we agreed on picking up a character from HP and dress like him or her. I was dressed like Bellatrix, because of a bet... A lot of fun but I'll never show you photos!
8. You mean the book who tore up my soul and made me cry for hours? Ah, that's easy. My new favorite book, "Code name: Verity" by Elizabeth Wein. Just... perfect.
9. I don't have a favorite genre so I don't hate a specific one. But I kind of dislike SF books. You know, like Asimov ones. And those who are full of bad-quality romance. That doesn't mean I hate them, though.
10. Ah... there are a lot of authors I love, but if I had to choose an author that will be loved by almost everybody, that would be George R. R. Martin. Please, my Lord, write " The Winds of winter" faster!
Si de la Eny...
1. What's your favorite book?
2. One movie who you like more than the books ?
3. What book you cried?
4. Your favorite author?
5.Do you have a book signed by the author?
6. Who is your fictional crush?
7. In what book do you wanna live?
8. What are you reading now?
9. Which is your favorite book cover?
10. Do you love me? :o3 :))
1. I thought that book lovers will understand to never ask this question! Seriously, guys, do you have a favorite book? Only ONE? Tell me you can choose only one and I'll show you my photos as Bellatrix. You simply can't pick JUST ONE!
2. "Lord of the rings". I love the books, but Orlando Bloom as Legolas is just like a second Christmas...
3. Well, they were many. Recently: "Code name: Verity", "Allegiant", "The book thief" and the list can go one I like to cry when I read, it makes me get through easier.
4. Another cruel question :( Bronte sisters, Cassandra Clare, Julie Kagawa, Richelle Mead, Elizabeth Wein, Sarah J. Maas, Carlos Ruiz Zafon..... etc.
5. Nope, unfortunately. But I would love to.
6. Ah, JUST one again? Will Herondale, I guess. He's just perfect.
7. ... everything that goes with XVIII century. Probably "Jane Eyre".
8. Now, I'm reading "Comedianta" by Wladyslaw Reymont and "Champion" by Marie Lu. Both are awesome.
9. I've never thought about that... But now I think I would choose "Throne of Glass" by Sarh J. Maas. You know, the UK one.
10. To the moon and back, darling :))
Cred ca toata lumea a facut chestia asta, asa ca sper sa nu va suparati prea tare daca eu nu vin cu noi nominalizari. Ma chinuie putin o durere de cap din cauza racelii si trebuie sa invat la bio, asa ca sper sa treceti cu vederea de data aceasta. Ma revansez data viitoare, promit!
Si leapsaaa :) Multumesc
Eny
, inca o data!
1. O carte mare: Sa incepem totul cu Apocalipsa Zombie. Sa spunem ca te afli intr-o librarie, uitandu-te printre raftuuri, cand BAM! ZOMBIE ATACA! Un anunt apare la toate posturile in care spune ca armata a descoperit ca slabiciunea zombilor sunt cartile foarte mari. Ce carte laudata de toata lumea, dar pe care tu o urasti si care este o carte mare o arunci catre zombie pentru a-i elimina?
Nu pot sa spun ca o urasc dar..."Marile sperante" de Charles Dickens. Il iubesc in general pe tipul ala, dar cartea asta chiar nu a fost pe gustul meu.
2. O continuare: Sa spunem tocmai ai plecat dintr-un salon cu o noua tunsoare cand BOOM: Ploaie torentiala. Ce continuare a unei carti ai alese sa o folosesti pe post de umbrela?
Ah, asta e simplu: "The Elite" de Kiera Cass. Chiar iubesc coperta, dar volumul ala a fost o tortura. Serios, sper ca "The One" o sa ma dea pe spate, altfel Kiera Cass nu o sa primesca nimic de Craciun :(
3. O carte clasica: Sa spunem ca esti intr-o ora de lectura cu profesorul tau de romana care vorbeste incontinuu despre acea carte clasica (,) care a schimbat lumea, care a revulotionat literatura si tu deja nu mai vrei sa auzi nimic despre aceasta carte asa ca o arunci in fata profesorului pentru ca stii de ce? Acea carte este idioata si merita sa primesti detentie din cauza lucrului facut doar pentru a le arata tuturor ce simti. Ce carte clasica ai alege?
La naiba cu "Padurea spanzuratilor" de Liviu Rebreanu! Imi pare rau, pot sa spun ca eu chiar urasc cartea aia. Asta nu inseamna ca ii judec pe cei carora le place. Good for you. For me, it was just a pain in the ass. Sorry.
4. Cartea pe care o urasti: Sa spunem ca esti in biblioteca cand BAM! Incalzirea globala explodeaza si lumea de afara ingheata. Esti blocata si singura ta sansa de supravietuire este sa arzi o carte. Care este prima care la care te-ai duce, cartea pe care o urasti, care carte nu ai regreta sa o arzi?
"Imparatul mustelor" de William Golding. Nu pot sa suport cartea asta. Repet, gusturile difera, asa ca nu ma judecati prea tare :(
Asaaa, pai multumesc celor care inca mai stau pe aici si citesc toate astea :) Sunteti cei mai tari si va iubesc mult de tot!
Sper ca ati avut parte de un inceput de decembrie cat mai frumos! Eu cu siguranta am avut duminica o zi magica :)
Ne auzim pe la sfarsitul saptamanii, cu o noua recenzie sau rubrica... Saptamana usoara tuturor!